Remember the days when magic was considered to be strictly for tricksters with capes, wands, and rabbits coming out of top hats? That's not the norm anymore. In fact in more recent years, magic hasn't been regarded as a complete fantasy, but rather a relatable reality that we can see ourselves in.
Of course magical realism has been around for ages, but one of the major key players in bringing it back to the mainstream is Harry Potter author J.K. Rowling. She reminded us that stories like hers not only sell, but also have the ability to resonate with readers all over the world thanks to common themes of friendship, love, death, and overcoming adversity in the face of evil. Rowling created a world where there was a fine line between what could happen in real life and what we imagine could happen in real life, which is why the masses – both young and old – fell in love with the series (and without a secret potion).
The widespread popularity of the seven novels and subsequent spin-offs made it OK to be obsessed with a story of a young wizard despite the fact the books live in the children's section of your local bookstore. In fact, many celebrities have professed their love for the wizarding world and the profound effect the series has had on their lives.
Everyone from Prince William and Kate Middleton, to Jennifer Lawrence and self-professed Slytherin Lin-Manuel Miranda, who told Hermione herself, Emma Watson, that he was inspired to make specific storytelling choices in his multiple award-winning opus, Hamiltonbecause of Harry Potter. If it's cool enough for them, it should be cool enough for the rest of us.
Even the stars of The Magicians, which returns for a second season on Wednesday, January 25th, can't help but see the similarities between the show and Harry Potter, since both are grounded in reality.

"Anyone who's loved fantasy as a kid and has then grown up and longed for that idea, but has also been met with the challenges of the real world. I think that it's really appropriate," actor Hale Appleman told E! News. "I think anyone who has loved Harry Potter but perhaps is now a little more mature and taking on some of life challenges, I think it's a perfect fit."

What exactly are those life challenges, you ask? Just your usual problems centering around murder, drugs, lies and sex. So yeah, a little bit more adult than the Potter fandom is accustomed to.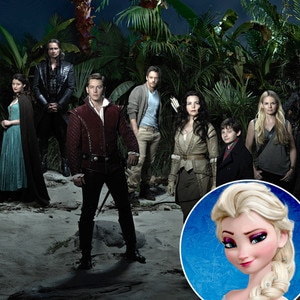 Photos
Characters That Should Be On Once Upon a Time Because Why Not
So ultimately, what makes magic "cool" at all? The common thread between all these books, movies, and TV shows is relatability. We take quizzes to find out which Hogwarts house we're in by answering questions based on personality traits – not based on our skills to easily transfigure into a cat. We sympathize with characters like Alice in The Magicians because we know what it feels like to be hurt by someone you love – not because we can easily cast a spell with tuts from the hands. Magic, with all its mysticism and illusions isn't just "cool" because it's something we don't understand. It's cool because we do.

(E! and Syfy are both part of the NBCUniversal family.)