Summary
Health as a lifestyle is a story that is gaining traction in the 18-29 and 30-55 age groups, LULU represents a lifestyle for these consumer segments.
International expansion will continue driving square footage growth and driving top-line growth.
Digital expansion driving customer-based marketing and more personal experiences have driven strong e-commerce engagement and traction.
Background
Lululemon Athletica (LULU), a specialty retail brand specializing in fitness and health lifestyle apparel. Originally known for its exposure to yoga, the brand has managed to expand into all fitness with a push into male and outerwear. The brand is now well-known among all those who enjoy physical activity in any capacity from yoga studio's to weight rooms. The company preaches a lifestyle approach which has gained traction with younger consumers who prefer a customized and personable experience. Through their consumer outreach and feedback programs, the firm has been able to consistently meet customer needs through innovative fabric solutions offering superior quality and fit.
The stock has traded at a premium to the market and its competitors over the year-to-date period. The premium is the result of the more niche market which LULU operates compared to its larger fitness apparel peers.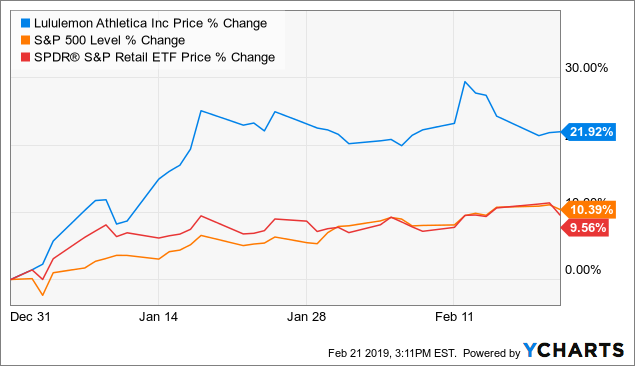 Thesis
Valuations, while lofty, appear to have come down to trade in tandem with other large fitness brands in the industry such as Under Armour (UA) and Nike (NKE) while it has historically traded at a premium to those stocks. The multiple compression came with the more broad selloff in equities at the beginning of the new year. In the meantime, LULU has continued its expansion abroad and into new consumer segments, driving strong top-line growth.